Abu Raihan al-Biruni, an Islamic scholar from Central Asia, may have discovered the New World centuries before Columbus – without leaving his study – as S. Frederick Starr explains.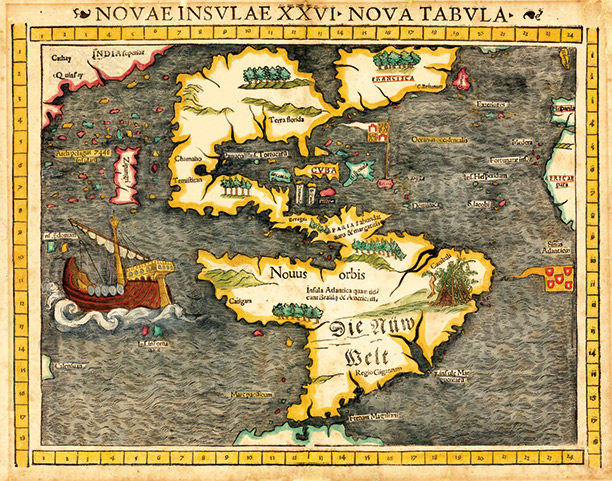 Sebastian Munster's map, published in 1540, the first to show America as a continent. AKG ImagesFor more than a century an army of scholars, enthusiasts and outright eccentrics has delved into the question of who discovered America. Some of the claims are truly exotic, with fanciful reportage on ancient Phoenicians in Rhode Island or Chinese from the Middle Kingdom in the Bay Area. Back in the 1950s the colourful Norwegian ethnographer and adventurer Thor Heyerdahl contended that Peruvians in sailboats made of balsa wood were commuting back and forth between the Americas and Polynesia centuries before Columbus set sail.
Leaving aside patently absurd theories, there are a number of serious­ claimants for the title. First comes Zuan Chabotto (c.1450-99), the Venetian navigator and explorer. His claim turns on the fact that Columbus did not reach the American mainland until 1498, while he touched the North American shore a full year earlier. That he had set sail from England caused him to be remembered in the Anglophone world as John Cabot and shifted bragging rights from Venice to the 'Sceptred Isle'. Then it turned out that, while Cabot found investors in Bristol and received a patent from Henry VII, his principal financial backer was an Italian banking house in London. The laurels shifted back to Italy.
In 1966 an English scholar, Alwyn Ruddock, discovered a letter of 1498 written to Columbus by an English merchant named John Day. In it, Day asserted that it was 'considered certain' that the North American mainland, which Cabot had visited the previous year, had been 'found and discovered in the past' by seamen from the port of Bristol (which happened to be Ruddock's home town). Ruddock unearthed more papers suggesting that these pioneering Englishmen had reached America as early as 1470. Unfortunately Ruddock ordered all of these papers to be destroyed at her death in 2005. Just as it seemed that the prize was about to head north again, fresh doubts set in.
Amid this ping-pong match, Francesco Guidi-Bruscoli, the Italian historian who had discovered information on Cabot's Italian backers, came across a yellowed parchment map with an intriguing notation suggesting that Cabot may have been dispatched to confirm a discovery made many years earlier. Written in Italian, it states that 'Giovanni Chabotte' (Cabot) from Venice had been commissioned to sail to the 'new land'. That the reference to new land was preceded in Italian by the definite article, il, rather than the indefinite un suggested to Guidi-Bruscoli that Cabot's sponsors already knew of the Americas, thanks to reports by an earlier explorer. Cabot was simply verifying what was already known.
Meanwhile scholars from Scandinavia have examined the Norse sagas for evidence that their forebears had sailed to North American shores before the English and Italians. The story of Vikings plowing the waves in their narrow-hulled boats to explore and settle Greenland is by now well known and confirmed by archaeological finds along Greenland's south-western coast. At the beginning of the 20th century Professor Gustav Storm of the University of Christiania in Oslo produced evidence that Norsemen had made several trips to within sight of the Canadian coast, identifying and naming Markland (southern Labrador), Helluland (Baffin Island) and Vinland, which is thought to be Nova Scotia.