Rated modes S4-S8
Except all foresaid basic modes there are another 5 rated modes: S4-S8, additional ones. They are intended to simplify the problem to equalize an arbitrary real mode to the rated ones. They characterized the following:
- Repeatedly short-term rated operation mode of electrical machine with rapid starting S4 (assessment over temperature through the rapid starting)
- Repeatedly short-term rated operation mode with rapid starting and electrical braking S5 (assessment over temperature through the rapid starting and braking)
- Repeatedly short-term rated operation mode S6 is analogue of S3 mode but It doesn`t finish its operation after operation time, but it operates in idle way.
- alternating rated mode of EM with rapid reverse S7 (rapid reverse alternates with non-long-term with constant load)
-alternating rated mode of EM with two or more velocities S8 (operation modes with a velocity and similar loads alternate with operation modes with another velocity and another load)
The primary information for the operation mode of EM is the load diagrams of EDs.
Load diagrams of EDs characterize dependence of rotation moment, current or power, which the motor has, on the time.
Load diagrams are using to estimate the overload ability of ED, to compare it with short-time load for the specific type of EM and to check previously chosen motor to the heating.
Load diagram takes into account static and dynamic loads, that ED operates in the operation cycle with.
Static loads are specified in accordance to the technology data, which characterizes the operation mode, and dynamic loads are measured by inertia moments,which appears to provide appropriate angular accelerations.
Load diagrams is appropriate to consider for the specific devices. For example: electro drive of mine winder with balanced cable.
Kinematic scheme is the following: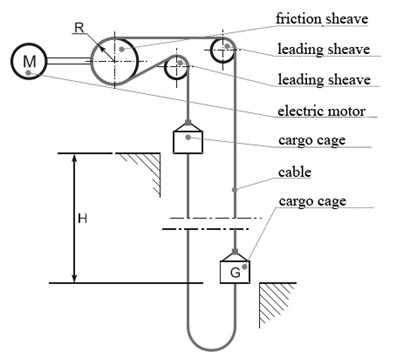 Elevator is furnished with balanced cable, friction sheave, two cages and two leading sheaves. Cable is fastened to the cages by its edges and envelopes leading and drive sheaves.
In accordance with technology process and mechanical equipment parameters and elevator efficiency the approximate velocity and acceleration diagrams are set.

,

- liniar cage velocity,

;

,
e - angular acceleration,

.
Tachodiagramprovides the angular acceleration time

, duration of steady mode

with steady velocity

, time of angular slowdown

and pause time between lifting

all


.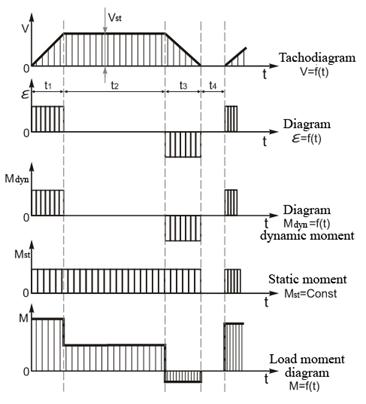 Angular acceleration and slowdown diagrams correspond to the velocity diagram, which values are constant in magnitude and different in sign corresponding to

and

. Components of dynamic moment are equal in the starting and breaking time:

I

,
Where

[

] – inertia moment applied to the shaft of mobile ED part.
Then static load moment is specified:


,
Where

- static force on the sheave circle, N;

- frictionsheaveradius, m;

- transmissionefficiency.
Gravity forces of cages and cable aren`t taken into account, because they are balanced.
Then approximate motor power is calculated:

[kWt],
where

=1,2-1,3 – store friction, that includes dynamic moments influence;

[

] – steady velocity of elevator is:

In accordance with its value angular velocity is specified( as elevator is 1 class operation mechanism, so

).
Finally the very last diagram:

It`s a load diagram, that is an addition of static and dynamic moments:

.
Though a load diagram is:

Ratio of static and dynamic moments specifies positive or negative magnitude.