A) DISCUSS THE FOLLOWING QUESTIONS, AND THEN READ THE LETTERS
C H O C O L A T E
Example:
hat
catch
EXERCISE 21.
1. How do you understand the word "manners"?
2. What do you know about table manners?
3. What is the correct way to sit at table?
4. What should you say if you like the dish?
5. Should you say something if you dislike the dish?
Dear Mrs. Gently,
Help me please! My wife is always criticizing me! She is always teaching me good manners. She teaches me to use my fork and knife, never allows me to eat fish when we are in a restaurant! But I like salmon very much! I always tell her that "good manners" are simply polite ways of behaving. Aren't I right?
Unhappy Larry
Dear Tom,
Good manners are important at meal times, though people worry less about table manners than they once did. When eating at a table with other people, it is con­sidered polite to keep your napkin below the table on your lap, to chew with your mouth closed and not talk with food in your mouth, to keep your elbows off the table, and to eat fairly slowly. It is wrong to take a lot of food all at once, or to take more until it is offered. It is also better to ask somebody to pass the salt, etc. rather than to reach across the table for it. If you like the dish, just say "It tastes really fine!" In case you don't like the dish keep your impressions to yourself in order not to embarrass your hostess. But in general enjoy your meal!
Mrs. Gently
B) PUT THE WORDS AND PHRASES FROM MRS. GENTLY'S LETTER INTO THE CORRECT COLUMN BELOW
______________ ______________
EXERCISE 22. LARRY AND MARY ARE IN THE RESTAURANT. PUT THE CONVERSATIONS IN THE RIGHT ORDER
| | | |
| --- | --- | --- |
| a)Larry: Excuse me. Could I have the bill, please? Waiter: Certainly, sir. | d)Waiter: Good evening. Larry: Good evening. Could we have a table For two, please? Waiter:Certainly, sir. Would you like to sit over here? Larry:Oh, yes. Thank you. | g)Waiter:Would you like to order now? Mary:Yes. I think I'll have melon to start with, please. Then I'll have a steak with Frenchfried potatoes. Waiter:How would you like your steak, madam? Rare, medium or well done? Mary:Medium, please. And I'll have a side salad. |
| b)Mary: It was a lovely meal, Larry. Thank you very much. Larry: That's all right, Mary. Would you like another cup of coffee? Mary: No, thanks. I've had enough. Thank you. Larry: I'll get the bill, then. | e)Waiter:And for you, sir? Larry: I'll have soup to start with, please. Then I'll have chicken casserole with some ... Waiter:I'm sorry, sir. The chicken casserole is all gone. | h)Waiter:Would you like something to drink? Mary:Can I have a glass of red wine, please? Larry:I think I'll have a lager, please. And could I have some water? |
| c)Larry:Oh, all right. I'll have a steak, then. Well-done, please. Waiter: Vegetables, sir? Larry: Yes. Some green beans. And some boiled potatoes, please. | f) Mary: Oh, dear! That's very expensive, Larry. Larry: No problem, Mary. I've got plenty of money. Now, where is my wallet? | i) Larry: Oh, no! Mary: What is it, Larry? How embarrassing! Mary: What? Larry: I've left my wallet at home. Mary: Oh, Larry. |
EXERCISE 23. WORK IN GROUPS OF THREE OR FOUR. ONE OF THE GROUP IS THE "WAITER", THE OTHERS ARE "CUSTOMERS". MAKE UP YOU OWN CONVERSATION IN A RESTAURANT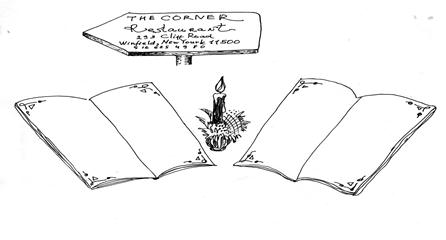 EXERCISE 24. CAN YOU SPEAK REAL ENGLISH?