To complete our basic phrase structure rules, we need to discuss one further sentence type: sentences with object noun phrases that take nouns, adjectives, or adverbial preposi­tional phrases as predicates. Consider the following examples:
The constituents following the direct objects in these three sentences are the same constituents that can follow a copular verb; however, when they directly follow a copular verb, they refer back to the subject NP (e.g., Sam is the treasurer). In the sentences above, the underlined constituents refer to the object NP and predicate something with respect to that object noun phrase:

To account for this type of sentence, where there is no explicit verb but where a predica­tive relationship is nonetheless present, we need one further rule that generates such predicates:

Actually, this rule is an expansion of rule 4, introduced above. Rule 4 is now as follows:

Our final rule simply spells out the fact that NP' gets expanded exactly the way NP has been previously expanded:

These rules allow us to account for sentences like the three sentences above with object predicates. Below, we diagram the first such sentence as an example: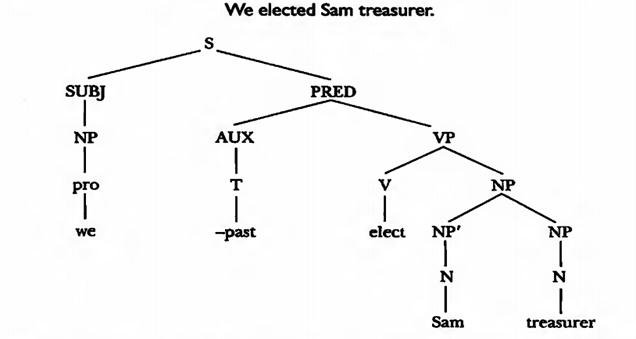 There is one condition on the third option in rule 4; it applies only to prototypical NP objects (e.g. direct objects). Indirect objects, for example, do not take this type of object noun predication.
SYNTACTIC ROLES OF NPs in PRED (PREDICATE)
This is a good time to review the two syntactic roles that noun phrases can have under the predicate (PRED) node. This is in contrast to the noun phrases directly generated under the subject node (SUBJ), which function only as subjects. Under the predicate node (PRED), NPs can function as objects or predicates. They function as three types of objects:
direct objects: Jim read a book.
indirect objects: Sara gave me some flowers.
objects of prepositions: Sam lives in a big house.
Noun phrases function as predicates of subjects when they occur after a copular verb. They function as predicates of objects when an object noun phrase is expanded, (i.e. the third possibility in rule 4 above) to include an object noun predicate:
subject noun predicate: Jan is a teacher.
object noun predicate: We elected Sam treasurer.