BUILDING 3D OBJECTS
Laboratory work 11
Review answers
1Color correction is performed to optimize the source material, to focus attention on a key element in the shot, to correct errors in white balance and exposure, to ensure color consistency from one shot to another, or to create a color palette to match the visual look the director prefers.
2SA Color Finesse 3 is a third-party plug-in installed with After Effects CS5. It performs a wide variety of color-correction effects, such as isolating a color range for enhancement. SA Color Finesse 3 affects the original layer, ignoring any effects that have already been applied to the layer.
3You can use the Photo Filter color-correction effect to warm up the color of an image. The Photo Filter effect mimics the technique of using a colored filter over the lens of a camera to adjust the color balance and color temperature. Choose the Warming Filter in the Photo Filter Effect Controls panel to warm up the color of an image.
4To ensure that cloning occurs across the entire timeline, move the current-time indicator to the beginning of the time ruler, and then choose Constant from the Duration menu in the Paint panel.
In this lesson, you'll learn how to do the following:
􀁴Create a 3D shape from a solid layer.
􀁴Create 3D text with expressions.
􀁴Look at a 3D scene from multiple views.
􀁴Create a guide layer to aid in object placement.
􀁴Control the way a layer animates by moving its anchor point.
􀁴Rotate and position layers along x, y, and z axes.
This lesson will take approximately 1Ѕ hours to complete. Copy the Lesson11 folder into the Lessons folder that you created on your hard drive for these projects (or create it now), if you haven't already done so. As you work on this lesson, you'll preserve the start files. If you need to restore the start files, copy them from the Adobe After Effects CS5 Classroom in a Book DVD.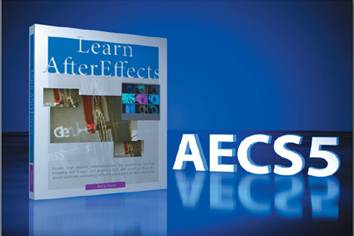 By clicking a single switch in the Timeline panel in After Eff ects, you can turn a 2D layer into a 3D layer, opening up a whole new world of creative possibilities.